The lack of blogging has been very bad. So i apologize for that. Let's get started. We are finally getting settled into the house. Really all that is left to do is get a kitchen table and paint a few rooms, hang decorations and finish the boys rooms.
This is a picture of the front of the house.
Home Sweet Home
I love where it's located because we are so close to everything.
We have had a low key weekend which has been nice.
Saturday morning I got the boys up at 6 and we meet Sam at Shelby Farms to do a walk for one of her friends to help St Jude. Her little cousin is the patient of the month so we went there and helped her raise money. Here are some pic of the boys lounging
Holden chilling with feet up
Hudson eating an orange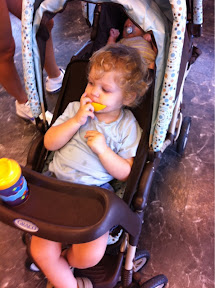 Then we went back home the boys napped as did Sam and I cleaned the whole house. Sam woke up and we did a little shopping then got to go food and came home and spent time with daddy. Speaking of daddy I got home and Zach said I gave my self a haircut normally he does good but got new clippers and the tip fell off I'm sure you know where I'm going with this he has thinned out the side of his hair and I about peed in my pants laughing so hard.
Too Funny
Then Sunday funday we went to our usually breakfast spot then Mimi took Hudson to the children's museum. Zach, Holden and I spent some time together then we made dinner
On the inside looking out
Zach making dinner
Eating a pickle
Hudson wanting to go outside
My sweet boy playing
Let's go go
Hudson sharing the watertable
Crazy dog
If you made it threw the post good for you. Holden will be 2 months tomorrow. I'll have his post Thursday when we get back from the Dr.
I hope y'all had a good weekend