We had a really good weekend. Friday night we got home from work and decided to go to Chipotle Mexican Grill they have tacos,salads, and huge burritos. It is so good. Then we went home and got the boys to bed.
Saturday I cleaned cleaned and cleaned some more. I also got the outside of the house picked up. My dad came over for a little while to visit with the boys. We also watched the Arkansas Game and the Hogs won!!!!! Here's Holden showing some love.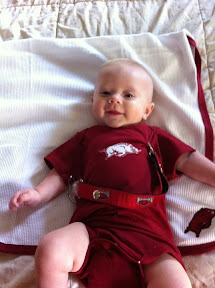 Then Sunday we got up early and went to the Air Show. It was really neat Hudson Kinda liked it he was a little cranky but got in most of the planes. He also liked the planes doing tricks.
Thought this was so sweet
Looking up at the planes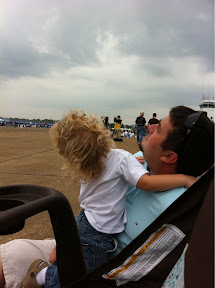 Then we left and went to the mall to get Hudson some shoes for the fall. While we were there we ate at the Crepe Maker for lunch it was really good. Turns out they moved the new balance store so we didn't get any there it was by a store going out of business and they had Bumble&Bumble products half off that's awesome so I loaded up and shampoo and conditioner and curl cream!!! Then we left to go get Hudson some Toms I love the way they look on him and he loves them.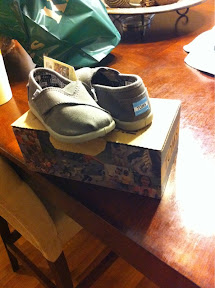 Then it was off to Toys r Us we had to get Holden some diapers. Hudson came across the Thomas the train track and wouldn't leave. There was a little boy playing there who was almost 4 he gave Hudson a train and before Hudson could say thank you the little boy said " your supposed to say thank you Ass" my mouth dropped and Zach was about to roll on the floor from laughing so hard. Then to get him away from the train to go home Zach had to buy him a train set. So nice he's a push over ha. Then we came home and are eating left overs yummy
Here's some pictures of the rest of the day.
Hudson throwing a good fit
And again
More play time
Hudson and his new toy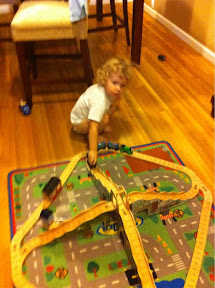 Eating dip with daddy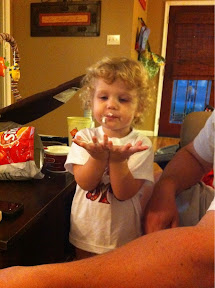 I thought this boy looked like Hudson on the train box haha
I hope y'all had a great weekend and if you made it threw this long post. Hats off to you :)